: Out Now :

World wide customers should now do the folowing when ordering:

Choose "World Wide - 1st Item" for your 1st and/or most expensive item.You only have to do this once!

Choose "World Wide - Each Additional" for every item after.

We apologize for the increased rates on world wide shipping. This is out of our control.
---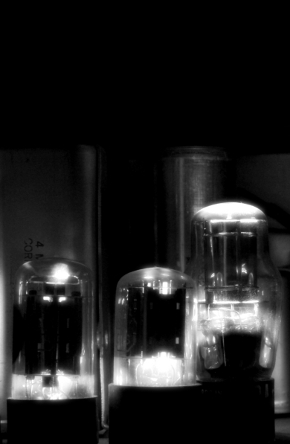 DSC#104 - [view] / Don Haugen - Split - C-20 Cassette - cover

[view]:



Don Haugen:



I've wanted to make this split happen for years! While both Don and [view] have been active in Eugene's thriving experimental scene for years and years, both have near non-existent recorded output. It's surely a feat almost of unheard of in a scene where many artists release a near endless stream throughout their lifespans. We decided it was time to change this and what better way than to get them both on one tape!

[view] starts things off with a blinding rush of tube driven bass oscillations. Known locally for having one of the largest collections of tube based vintage sound equipment in the Pacific Northwest (country? (world?!)) it is very unlikely you will hear this gear used on many other recordings during your lifetime. While the sound does not change much throughout, it's never stagnant or unmoving. It gives the impression more of shifting tensions and pure electrical flow. It's like plugging your brain directly into the charred fuse box of a burnt down house. Proper (loud!) listening will reveal all of the intricacies, leaving you disoriented and craving more.

Don Haugen began with his harsher project Warning Broken Machine years ago, before slowly transitioning into creating some of the bleakest dark ambient recordings you'll be likely to hear this side of a star imploding. Using modified function generators and classic Moogs, insanely thick sub harmonic bass tones ebb and flow, occasionally colliding into even thicker drones of monolithic proportions. Slow waves of melodic pads gently move in so gradually you don't even realize they're there until they completely envelope you. With this track Don has created a soundscape that would not be out of place in any dark sci-fi film worth its salt. Think of the Nostromo slowly plodding through some desolate neck of the galaxy and you'll be getting close.

Chrome high bias tapes with b/w labels. Glossy laser printed b/w cover. Limited to 50 hand-numbered copies.


---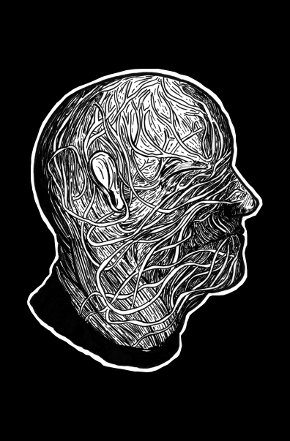 DSC#103 - Regosphere / Divine Shell - Split - C-20 Cassette - cover

Regosphere:



Divine Shell:



Regosphere starts the split with a slow burn analog synth piece; doomy bass throbs center rhythmic hiss, gritty oscillations and discordant notes, accented with bowed cymbals and almost chant like pads. Written and recorded the week after the passing of Peter "Sleazy" Christopherson, this song was done both as a tribute to a major influence but also a meditation on how death often comes to soon for musicians'. Pitch black synth industrial for those looking to dissolve time for a while.

Divine Shell is the main project of illustrator (check the cover art!) Derek Setzer from Southern Utah, who is also responsible for the blistering noisecore band Terrorist Financing. Starting the track out with a spoken word intro, things shortly evolve into flowing ambient chords with distorted drones, feedback manipulation and proto-psychedelic synth sounds that bring to mind early library music or BBC soundtrack recordings on bad downers more than the nu-kraut stuff that seems to be all the rage these days. Enter a strange void of dark swirling ambient noise.

Chrome high bias tapes with b/w labels. Glossy laser printed b/w cover. Limited to 50 hand-numbered copies.


---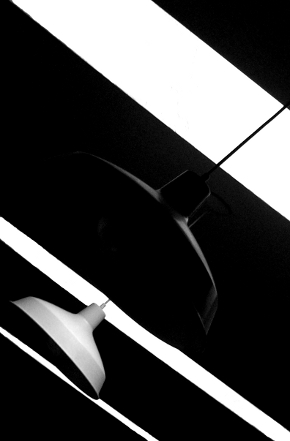 DSC#102 - Shiver / New Forest - Split - C-20 Cassette - cover

Shiver:



New Forest:



Shiver is the main solo project of Mauro Sciaccaluga. He's also is a member of the well-known drone trio UR, runs the Diazepam label, several side projects and is also a member of several Italian Hardcore/Punk bands. While the majority of Shiver's output mixes old school industrial sounds with power electronics and harsh noise, this recording scales things back a bit giving more emphasis on atmosphere and building suspense. Mesmerizing guitar and vocal loops slowly build, laying the foundation for skittering junk metal abuse, swelling feedback and pitch shifted tape loops. The cycle builds and builds before collapsing back in on its self leaving only the rhythmic drones to gently ease you back into reality. Fans of industrial drenched ambient will surely love this amazing track.

New Forest is the newer project of long standing Portland noise recluse Levi Berner. He also runs the tape label Horse Worship as well as taking part in several group projects and has had many different solo projects over the past decade. On his half of the tape, crystalline metallic synth drones intermingle with cascades of filtered white noise and blasts of no-input mixer feedback. Early industrial influences mingle with modern drone production to create something bordering uneasily between and serene and disgusting. The subtlety and patience for evolving individual sounds into a mesmerizing whole is what really drives this beast straight into your third eye like spear used in some esoteric trepanation ceremony.

Chrome high bias tapes with b/w labels. Glossy laser printed b/w cover. Limited to 50 hand-numbered copies.


---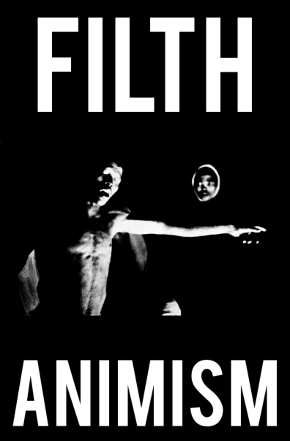 DSC#101 - Filth - "ANIMISM" - C-20 Cassette - cover



Filth is the ongoing solo project of Rob Buttrum from Denton, Texas. He's also a member of the heavy as shit sludge band Terminator 2 and runs the always excellent Out-Of-Body Records label. Here he brings us two new tracks of abrasive heavy electronics with the theme of the early headhunting tribes of Borneo. Grinding bass slabs and destroyed drum machines lay the blackened heartbeat for controlled feedback outbursts, modified television white noise, scathing vocals and some really unique live tape manipulation effects that really add a special touch. Take equal parts old school industrial, modern power electronics and a nasty fuzzed out sludge-ridden atmosphere and you'll get one of our favorite tapes we've put out in years!

Chrome high bias tapes with b/w labels. Glossy laser printed b/w cover. Limited to 50 hand-numbered copies.


---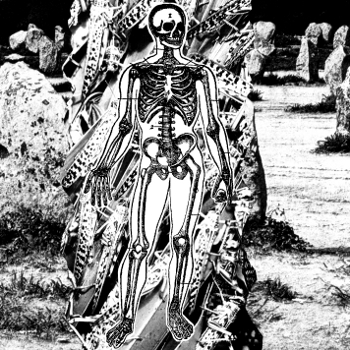 DSU#002 - JUICE MACHINE & Regosphere - "Trace Minerals" - Collaboration CD-R - cover



One sunny day a few weeks before the onset of Fall, Juice Machine and Regosphere got together at Quitter's Slithis Studios in the three's hometown of Eugene, Oregon and recorded a half hours' worth of collaboration material. Taken directly from the mixers output, these two sessions combine the duo of Juice Machine and their many handmade oscillators/no-input mixing with Regosphere's quad mono-synth and sheet metal abuse. Extremely thick synth rhythms pave the way for spurts of hot liquid white noise, bowed metal drones, grinding filter manipulations and crackling death electronics. A must own for synth NOISE fans. Be sure and catch Juice Machine on their national tour this Fall/Winter as well and pick up a copy in person!

High quality hand stamped CD-R with laser printed b/w cover on grey card stock. Limited to 50 hand-numbered copies. Co-Released with Control Valve


---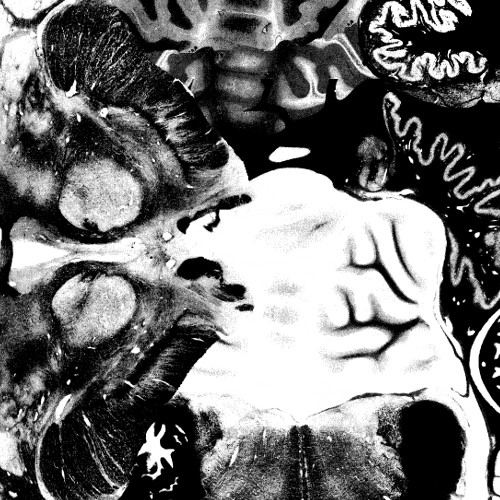 DSC#100 - Regosphere / The Vomit Arsonist - Split 7" Vinyl - cover

Regosphere (Excerpt):



The Vomit Arsonist (Excerpt):



We are extremely excited to announce not only the first vinyl release for DS, but also our 100th release as well! November will mark 10 years since we started this humble label using dumpster dived tapes and we couldn't think of a better possible way to celebrate it than with this release, coming full-circle a decade later!

Newly relocated back in Oregon, Regosphere brings a heavy dose of his Anxiety-Electronics in a lurching, claustrophobic track that delves further into the off kilter rhythms, oozing synths, bowed metal screech and punishing vocals that have been surfacing on the past few split tapes and recent live shows. Putting aside some of the more psychedelic elements of past works and focusing more on the feeling of pure dread this track is one of his heaviest and most focused to date. Cancer is the new grim reaper...

Hailing from Rhode Island and coming hot off the heels of his new full-length on Malignant, The Vomit Arsonist lays down one of the bleakest death-industrial tracks ever committed to vinyl for this split. Andy is well known for his solo work as TVA as well as being a member of the long running power electronics outfit Bereft and running the Danvers State tape label since 2008. Slow burn bass throbs lay the foundation for somber scorching synths, junk metal abuse and absolutely crushing vocals. Pain is the way...

Black vinyl, mastered and plated at Aardvark, pressed at United. Pro-printed glossy b/w covers with black and silver labels. Limited to 300 copies. Co-released with Phage Tapes and Obfuscated Records.


---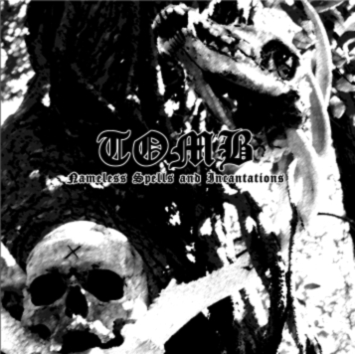 DSC#093 - T.O.M.B. - "Nameles Spells and Incantations" - Pro-CD-R - cover



We are very excited to announce T.O.M.B. making their first appearance on DS with the release of "Nameless Spells and Incantations"! Coming off of their recent full-length releases on Crucial Blast, Fall Of Nature, and a one sided LP on Prison Tatt, here the group brings us their most devastating and raw release to date (and that's saying a lot!). Based around the demented visions of the core member No One, and often employing various members of the East Coast black metal and harsh noise underground for live shows and recording duties, this album can be seen as representation of the bands live sound. Live in studio sessions recorded in preparation for the bands gigs with Sun O))), Vomir, Sewer Goddess, Funerary Call and others are mixed with the bands trade mark field recordings made at cemeteries, crematories, abandoned hospitals and with human and animal bones. Obsidian black drones and vocal chants lay the foundation for thick crushing walls of unrelenting harsh noise, primitive steel gate pounding and quite literal tombstone grinding. Listening to these recordings you get the feeling of being alone late at night, hooded figures loom in the shadows of a reverb drenched corridor. Distant pounding and indistinguishable voices draw closer and closer until a blinding surge of electricity fills the room and your bones are ground to dust.

Pro-duplicated high quality CD-R with full color artwork and disc in a shrink wrapped jewel case. Limited to 100 copies.


---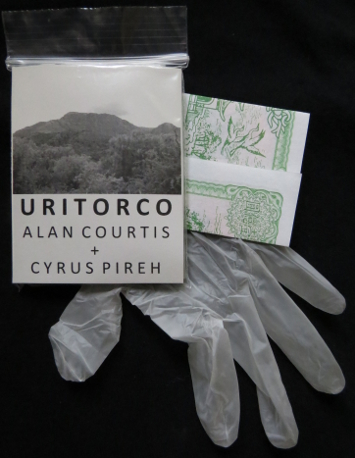 DSC#097 - Alan Courtis and Cyrus Pireh - "URITORCO" - Collaboration C-32 Cassette - cover



One hot day at a small studio in Argentina two long-time experimental musicians got together and laid down a thick session of heavy psychedelic atmospheres bordering on the fringes of psychedelic music and harsh noise. The recordings paint the picture clearly, tapestries on the walls, dirt weed and nag champa looming heavy in the air, warm beer near an open window with a box fan doing it's best to push the heat off the smoldering amps within. This is true modern psychedelia without any hints of nostalgia or irony, just thick waves fuzzed out toba violin coming from Courtis colliding with the fast sporadic guitar playing of Pireh. Everything is processed through gnarled electronics, covered in a thick layer of grime and static with the occasional metal sounds coming in and a nice clean room recording that lets you hear every last detail.

Courtis is of course well know for being a member of the highly prolific and influential Reynols, as well as his many solo and collaboration recordings. A true legend in South American experimental music. Pireh is a long time improv guitarist starting out in IL and becoming a mainstay in Minneapolis over the past decade where he's done an insane amount of solo records, worked with Cock ESP and has an upcoming LP in collaboration with the band Honduras. Being a long time fan of Courtis and a long time personal friend of Pireh we are very excited to put this amazing tape out. Play Loud!

Chrome high bias tapes with b/w labels. Two grey card stock inserts, a piece of "hell money" around the tape and a rubber glove are in a 5" x 4" zip lock bag. Limited to 100 hand-numbered copies.


---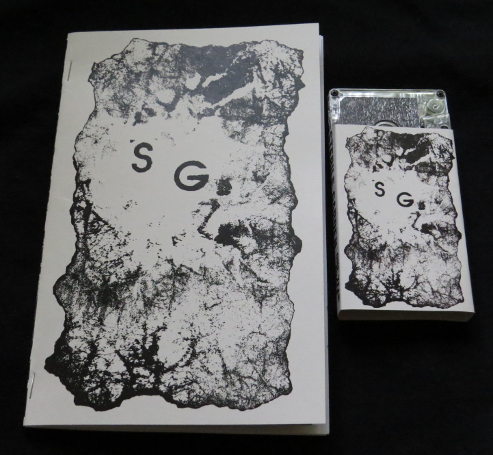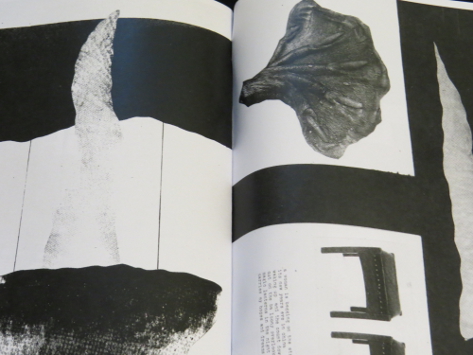 DSC#086 - Sterile Garden - "One Year Cycle" - C-40 Cassette and 24 page Art Zine - cover



Sterile Garden is the long standing project of Jacob DeRaadt from Denver, Colorado. He's best known for his unique take on tape collage and his ultra raw form of musique concrète along with running the label Basement Tapes since 2006. With "One Year Cycle" he brings a very personal piece of work to DumpsterScore that can probably be best described in his own words. "Side A was based on an 8-speaker installation for the Emmanuel Gallery (the oldest standing church building in Denver) for a group showing entitled, " The Riddle of Ritual". The idea for this piece was to distill an entire year's worth of field recordings and studio experiments into a 20 minute loop that begins with firecrackers in Kunming, China, during the New Year's festivities, and evolves somewhat chronologically through a turbulent year in my life; the passing of my father and a good friend, love lost and love gained, moving 3-4 times, etc."

On this stereo mix of that loop, you're left with a years worth of field recordings totally destroyed and manipulated into the final 20 minute piece that runs from sporadic tape cut-ups to thick gritty drones and bizarre vocal mash ups. Side B is a 4-track mail collaboration with Regosphere done during the same year. Jacob's city field recordings are further ground up and added to the throbbing industrial synths and bowed metal minimalism that Regosphere was engaged in at the time. You're left with a 20 minute piece of bleak, raw electro-acoustic industrial sludge.

The art zine can be seen as an accompaniment to side A of the cassette. Including a years worth of high contrast cut'n'paste collage work and writings spread across 24 pages.

High bias cassettes with b/w label in a handmade grey card stock O-card. Zines are 24 pages, 5.5" x 8.5", laser printed, grey card stock cover, thick white paper pages, vellum info insert. Comes with protective poly sleeve. Limited to 50 hand-numbered copies.


---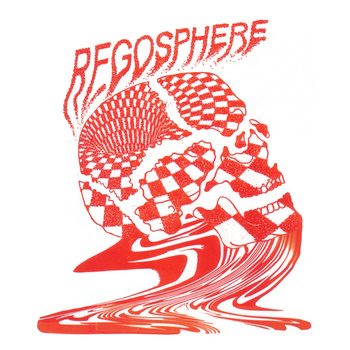 DSC#095 - Regosphere - "Full Of Holes - Volume II" - Pro-CD-R - cover



Tracks gathered from out of print split tapes, solo releases, compilations and an unreleased track spanning 2008-11. This collects the best of the dark ambient / death-industrial tracks by the project from the past few years. Pure creeping anxiety-electronics for claustrophobic minds.

Pro-duplicated high quality CD-R with full color artwork and disc in a shrink wrapped jewel case. Artwork by Jeremy Armstrong. Second edition limited to 50 copies. This release is also available in digital formats at regosphere.bandcamp.com for $4.


---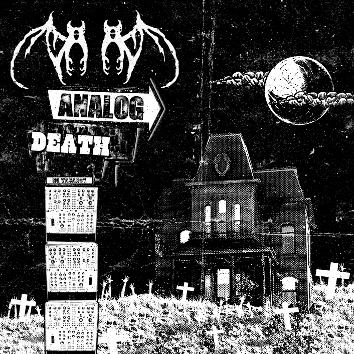 DSC#096 - D/A A/D - "Analog Death" - Full Length CD-R - cover



DumpsterScore continues to plumb the depths of D/A A/D's back catalog unearthing this beast of an album originally recorded in 2008. Intended for release on the much loved Barffing Dagger label, which unfortunately went under, this monster finally sees the light of day. These recordings came after Alex's shift from a more traditional pedal based set-up into the full-fledged modular synth assault he's engaged in ever since. Thick bass heavy drones and throbs lay the ground work for skittering drum machines, mid-range oscillations and feedback wails. Propelled by lurching rhythms that evolve over slow moving minutes, each track builds into an alternate slasher synth reality where there's a madman with an axe around every corner and a blood thirsty zombie behind every door. Combining elements of death-industrial, dark ambient, and thick drones, this is a must have for dark synth fans and another in what we hope will be many more records by Alex on DS.

High quality, hand stamped discs with B/W laser printed cover on grey card stock. Artwork by The Berhhardt Morgue. Limited to 51 hand numbered copies.


---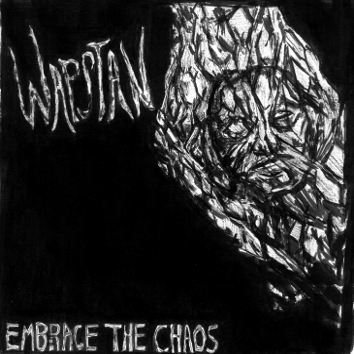 DSC#094 - Wapstan - "Embrace The Chaos" - Full Length CD-R - cover



Hailing from the Canadian cold north, Wapstan brings his first full-length album on DumpsterScore after years of enjoying his work. Stretched out over two 23 minute tracks, this release sees Martin going in a more minimal straight forward direction while keeping close to his "hypothermic" drone roots. Thick analog bass oscillations pulse away creating a trance like state, with minimal changes throughout slowly building and building. Mid-range and high frequency elements enter so slowly you hardly notice they are there until they begin to totally overwhelm you. Much like the chefkirk release we put out, but on the opposite side of the sound spectrum, this release is a study in pure frequency worship with appreciation coming from examining the tiny details that compose each track. Loud volume or headphones recommended.

High quality, hand stamped discs with B/W laser printed cover on blue card stock. Artwork by Derek Setzer. Limited to 50 hand numbered copies.


---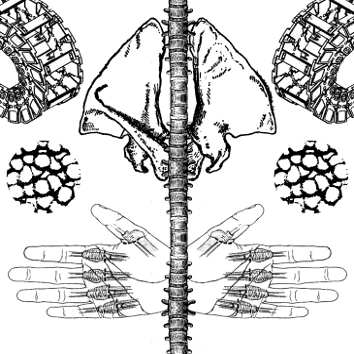 DSC#090 - Rovat - "Reconnaissance Of The Real Data" - Full Length CD-R - cover



Rovat is a bit mystery, even to me. Hailing from the Republic of San Marino and active since 2005 or so this is the first public release by the project. Even though he has several full lengths recorded, very few if any releases have ever seen the light of day as he has preferred to record for his own enjoyment and keep the results to himself, until now that is... Recorded in 2007 "Reconnaissance of the Real Data" contains 6 rip roaring blasts of old school harsh noise blended with early power electronic atmospheres and a nasty psychedelic death-industrial edge. Filthy encrusted synths lay the foundation for extreme grinding feedback manipulation, fast cut-up loops, expert multiple sound source mixing and murky vocals. This is the kind old school bedroom harsh noise that we hope never dies!

High quality, hand stamped discs with B/W laser printed cover on grey speckled card stock. Artwork by Andrew Quitter. Limited to 50 hand numbered copies.


---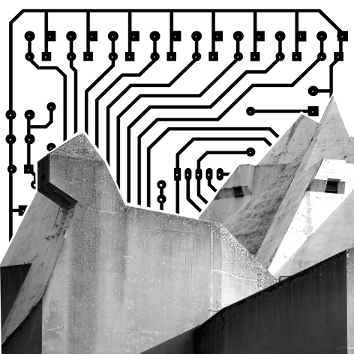 DSC#082 - Vacio Perfecto - "Tecniche Perse" - 3" Mini CD-R - cover



Vacio Perfecto is a newer artist that hails from Spain with just one full-length on the Licht Und Stahl label out of Germany as well as few compilation/collaboration tracks. On this new E.P. he presents a modern take on cold old-school rhythmic industrial with touches of harsh noise and dark ambient textures. Thick bass rhythms lay the foundation for junk metal manipulations, broken steam pipe hissing and minimal synth drones. Imagine the sounds of heavy machinery slowly plodding forward in a reverb drenched abandoned steel factory. Cold and sterile in the best way imaginable.

High quality, hand stamped discs with B/W laser printed card stock cover. Limited to 50 hand numbered copies.


---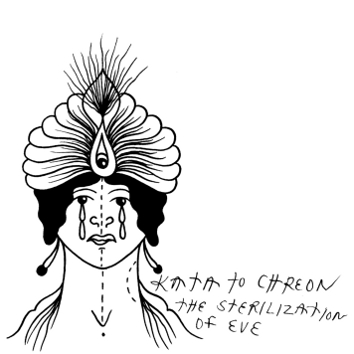 DSC#077 - Kata To Chreon - The Sterilization Of Eve - Full-Length CD-R -



After just one self released 3" e.p. to his name, Kata To Chreon brings his first full-length release to DS. With a wide variety of influences from the long history of U.K. industrial to draw from, KTC blends heavy rhythms, intricate synth work, harsh sound design, and raw vocals into a scathing mix that blurs the line between power electronics and cold rhythmic industrial. This is a loosely based concept album with tracks flowing seamlessly from one to the next, combined with fantastic recording and mixing quality and a deep understanding of his gear ensure that you'll find new details with every play. Another fantastic debut we're proud to have here on DumpsterScore!

Hand stamped high quality discs. B/W laser printed artwork on ivory card stock. Artwork by Jeremy Armstrong. Limited to 50 hand numbered copies.


---